I due ambasciatori Area MaB Sila UNESCO raccontano l'esperienza vissuta al MaB Youth Forum 2017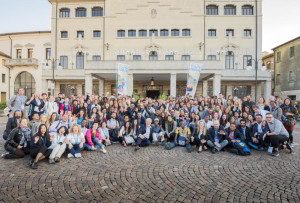 Il MaB Youth Forum – organizzato dal programma UNESCO 'Man and the Biosphere' (MaB) insieme all'Ufficio Regionale UNESCO per la Scienza e la Cultura in Europa con sede a Venezia – presso la Riserva Delta del Po, in Italia dal 18 al 23 settembre.
Circa 300 giovani rappresentanti di 142 Riserve della Biosfera di 85 paesi, hanno avuto l'opportunità di interagire, scambiare idee e partecipare a più di 50 workshop organizzati in 8 locations del Delta del Po, tra cui Adria, Ferrara e Padova.
In rappresentanza della riserva MaB Sila, una delle 15 riserve UNESCO italiane, il Parco Nazionale della Sila ha selezionato due giovani, Francesco Foglia e Maria Benincasa, che hanno risposto all'invito a partecipare a questo importante evento internazionale.
Maria Benincasa ha concluso il percorso di studi in 'Valorizzazione dei sistemi turistico-culturali' presso l'Università della Calabria e ha partecipato alla terza edizione della Summer School in 'Strategie di marketing nelle aree naturali protette' organizzata dal Parco Nazionale della Sila, prima di questo altro importante appuntamento.
The two ambassadors of the UNESCO MaB 'Sila' Area tell us about the experience lived at the 2017 MaB Youth Forum
Lorica, October 17th 2017 – Young people coming from the Biosphere Reserves recognized by UNESCO all around the world gathered to participate in the first edition of the MAB Youth Forum, organized by the UNESCO's 'Man and Biosphere Program' (MaB), together with the
UNESCO Regional Bureau for Science and Culture in Europe based in Venice, at the Po Delta Reserve in Italy from September 18th to 23rd.
About 300 young representatives from 142 Biosphere Reserves of 85 countries have had the opportunity to interact, exchange ideas and participate in more than 50 workshops organized in 8 locations in the Po Delta, including Adria, Ferrara and Padua.
In order to represent the MaB 'Sila' Reserve, one of the 15 Italian UNESCO's, Sila National Park selected two young people, Francesco Foglia and Maria Benincasa, who responded to the invitation to participate in the important international event.
Maria Benincasa has completed the course of studies in 'Valorisation of Tourism and Tourism Systems' at the University of Calabria and attended the third edition of the Summer School in 'Strategies of Marketing in Protected Natural Areas' organized as well by Sila National Park in the months preceding this other important appointment.